Ousmane Dabo, Professional Footballer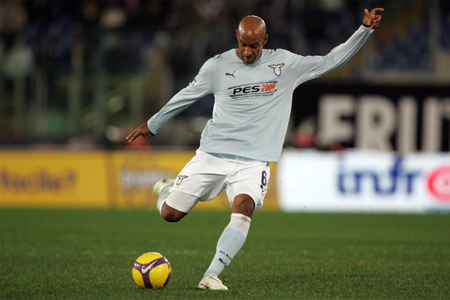 Born 8 February 1977 at Laval, Ousmane Dabo has grown up with football from his earliest age. His father, Moussa Dabo, played with the Stade lavallois (Mayenne Football Club) in the 1970s. He made his first steps in the world of football at the age of 6 quite naturally in the stadium where his father played. This sport proved to be a real passion for him. Several years later he was discovered by the director of the training centre of the stadium of Rennes, Patrick Rampillon, who gave him the chance to join the training centre at the age of 13. This was when he left the family nest to fulfil his dream and become what he wished for so much: a professional footballer. He would serve his apprenticeship alongside Sylvain Wiltord, Jean-Claude Darcheville, Mikaël Silvestre, Antony Reveillere, Yoann Bigné, as well as Pierre-Yves André.

An International Career

He then began a brilliant career. He started off as a midfielder in the French Championship at the age of 18 in the season 1995-1996 and was capped in 1998. Now a member of the international Espoirs (France under-21s) with his team-mate Mikaël Silvestre he was recruited by Inter Milan where he played several matches to join Vincenza in 1999. He was then transferred to Parma in 2000 and then to AS Monaco to return again to Vicenza. In 2001 he signed on with Atalanta Bergame where he spent two seasons and became a regular player. In 2003 he was recruited by Lazio of Rome, and after several injuries in his first season he established himself in the Roman club. He won his first Coppa Italia in 2004. At the end of his contract in 2006 he accepted the offer of Manchester City and discovered the Premier League. In 2008 he returned to Lazio, a club dear to his heart, and in 2009 won the Coppa Italia and the Supercoppa. In 2011 Ousmane Dabo joined the New England Revolution, an American franchise near Boston and ended his career in July 2011 owing to recurrent injuries to his knee and Achilles' tendons.

An Admirable Career with the France Team

Parallel with his international career Ousmane Dabo was selected for the French Espoirs by Raymond Domenech in 1997. He took part in the Toulon tournaments in 1997 and 1998 as well as the knock-outs for the Under-21 Championship of Europe 2000. In 2000-2001 he played in matches with the France reserve team; then in 2003 he was called up by Jacques Santini to take part in the Cup of Confederations with the international France team.

Ousmane Dabo – Football beyond Professional Frontiers

The mixed-ancestry of Ousmane Dabo and his roots go back to the union between his Senegalese father and his mother from Mayenne. Some ten years ago in Senegal he created a football school in the town of Ziguinchor. His wish: to give the young Senegalese a sports infrastructure that would let them play and fulfil themselves in this sport. They are aged from 6 to 17 - or even 18 in some cases – and Ousmane Dabo guides them in this sport with the aim of presenting the most promising to the European clubs. Through this fine project he brings sponsors and supports together to provide the children of the football school with T-shirts, balls, and a football infrastructure enabling them to practise the sport. The Ousmane Dabo football school – such is its name – regularly disputes matches with other schools in the country. A beautiful project into which Ousmane Dabo will be able to dedicate himself more while giving it more of his time.