Ousmane Dabo News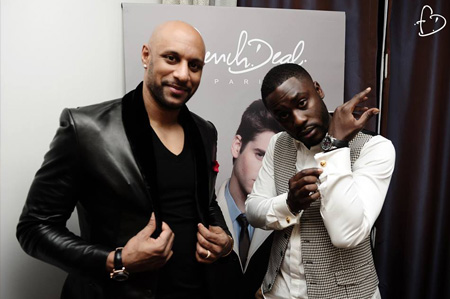 When a professional footballer's career comes to an end, the moment then comes for him to think about his new career. Some will have been thinking about it for a long time and have definite ideas; Ousmane Dabo had to follow his instinct – let himself be guided by his desires and above all take life as it comes.
In July 2011 Ousmane Dabo brought his career as a professional footballer to an end following several injuries that forced him to stop. As for his career-change, he had thought about it without ever having very definite ideas. In summer 2011 he gave himself 2 years to see how it was going and give his professional life a new direction. The first decision for Ousmane Dabo was to choose where to live. As a professional footballer playing internationally he had lived for 12 years in many cities (Milan, Rome, Manchester, Boston…) and never had the occasion really to settle down. He decided on Paris – a city that will let him be close to his family and friends.
A meeting several years before had led him to take an interest in a young brand of ready-to wear men's clothing - French Deal. First of all there are ties of friendship with Steeven Kodjia, a professional Hip Hop dancer. Having rubbed shoulders with the big names on the music scene the latter has given his life a new creative orientation in smart urban masculine ready-to-wear. Ousmane Dabo appreciates Steeven Kodjia's creativity, his determination during his atypical career and his competitive spirit - in which he sees much of himself. From the beginning he was full of enthusiasm for this brand and becoming a partner seemed self-evident. More than just a brand of clothing he sees in it a spirit that defends ethical values after his own heart. He assisted the creator of the French Deal brand in its development. In the beginning this assistance was financial since Ousmane Dabo was 100% taken up by his career. Then at the end of 2011 it became a real commitment in organising events and developing the brand through his network and contacts. Ousmane Dabo wears French Deal clothes on a regular basis. He particularly likes the fitted leather jackets and the shirts – a t-shirt called T-Scarf is a special favourite. The French Deal brand is for men who like to be well dressed in a casual style. The brand has won a striking success in their respected social circles and he is very often asked the brand of the clothes he is wearing: proof for him of the brand's obvious success that makes him determined to go on defending French Deal's values. The brand also has the professional basketball player Iann Mahinmi on its team. The year 2012 will have been rich in events for French Deal: opening of a Pop Up Store in Paris and private events at Indianapolis, London, Paris, and St. Barts. For 2013 the brand wants to adopt a more classic multi-brand distribution and counts on seducing a wider public.
Ousmane does not rule out taking part in other projects. He has his football school he created in Senegal a few years ago and to which he wishes to give more of his time. He aspires to become an entrepreneur and fulfil himself in all he undertakes.